The footrest comes in a variety of designs, from half moon shaped (pictured below), circular designs held by spokes to more designer squared and even triangular, that add visual impact.
A number screw directly to the seat, such as the neck of the Coco bar stool, or the cascade footrest of the Niagara.
The top section also houses the lever that activates the hydraulic, depressing the button when pulled upwards.
You will note that on the lower section, there is a nylon sleeve, in this case black.
The function of this is to reduce friction between the footrest and column.
Finally, the bar stools are topped out by the seat, which is affixed to the footrest by four bolts and usually washers, making a secure and steady connection.
Whether flat based or round based, gas lift or fixed height, you can rest assured that all of our bar stool components are carefully crafted to the highest standard. For more information about assembling your bar stools, take a look at our Bar Stool Assembly Guide.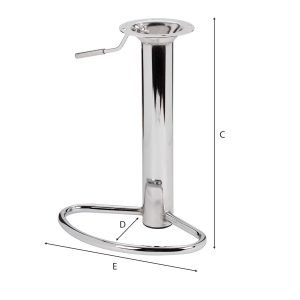 CHARACTERISTICS:
Material - chrome-plated steel;
A - size: 85 mm;
B - size: 85 mm;
C - size: 380 mm;
D - size: 190 mm;
E - size: 300 mm.